Introduction
PDF4me is available in Power Automate with two essences connectors. All you need to know is what to choose and how to use these connectors for automating your daily routines.
PDF4me Connect (Recommended) – This option best suits the enterprise users, who can buy bulk number of API calls as per their requirement and is a good choice for an on demand usage in comparison to the other connectors

PDF4me – It is works with oAuth authentication. You can authenticate this connector using dev.pdf4me.com account credentials. This connector is the best option for the prototyping your business automation with trial API calls. Later you can move to PDF4me Connect as it is a recommended PDF4me connector which has all latest features.
You can now register at dev.pdf4me.com and start using Power Automate for free. First 20 usage calls are free and lets you try all features.
Microsoft Power Automate (formerly known as Microsoft-Flow) with PDF4me lets users create automated workflows that use PDF4me features. For Instance, using the PDF4me connector in Microsoft flow helps you access a document from mail or storage like Gmail or OneDrive, process it using PDF4me and store it back to a storage or email it again. And yes! All of these can be automated in simple manner.
Using Power Automate saves your time and helps in speedy multi-processing of your documents. For instance, you can convert doc to PDF, optimize it, add watermark or e-sign it using PDF4me connector. Thereafter,you can use Flow to save it in Cloud storage or email it as an attachment. A screenshot of a sample workflow can be seen below: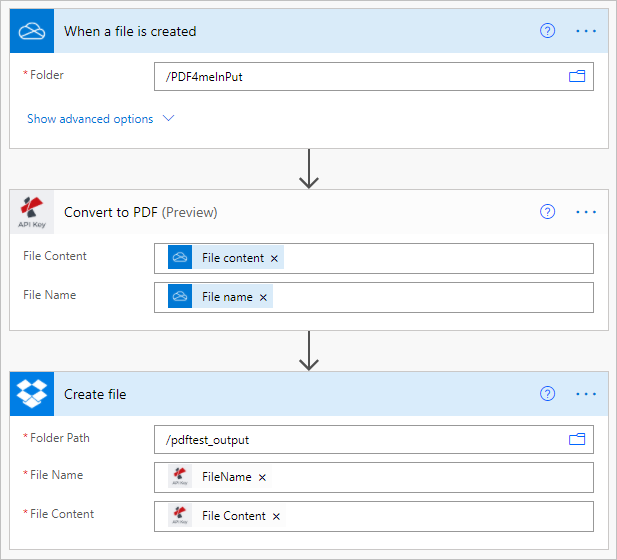 Log in to Power Automate using your account credentials
Create a new Flow template.
To add a PDF4me connection for the first time, you need to register at dev.pdf4me.com. You would automatically get a free account which allows you to try out all features.
After adding the connection, you can create the required trigger of choice.
Add the PDF4me connector for the required processing
Add the final action say, Dropbox where your output files need to be stored
Likewise, you can create flows that suit your requirements using the PDF4me Connectors. Almost all our basic features are now available with our connector giving a wide range of control over your documents.